On August 1, the reporter learned from the Municipal Construction Committee that since the beginning of the year, Shenyang has solidly promoted all aspects of urban and rural construction and achieved good results. In the first half of the year, Shenyang completed an investment of 8.1 billion yuan in urban construction, completed real estate investment of 75.03 billion yuan, completed the construction industry's total output value of 58.469 billion yuan, and completed the modern construction industry output value of 62.4 billion yuan. Up to now, the overall construction project of last year has progressed smoothly. According to the current project progress, key projects such as Second Ring Road Expressway, Yingbin Road Viaduct, North Station North Square Reconstruction, and Yunlong Lake Bridge can ensure all the "11" Completed.

Urban construction blossoms everywhere

Since the beginning of the year, in the face of the severe and complicated external environment and the continuous downward pressure on the economy, the Municipal Construction Committee has actively responded to the principle of promoting "major project construction, industrial transformation and upgrading, coordinating urban and rural development, and deepening innovation and reform". Work.

It is understood that in addition to the projects to be completed, the planned north-south expressway project has started construction, and other road traffic, ecological environment, supporting facilities, guaranteeing people's livelihood, county infrastructure and other projects are also organized and implemented as planned. The 15 Golden Corridor Key Projects such as the City Hall Henglong Plaza, Baoneng Center, Huaqiang City Plaza and New World Center are progressing smoothly. The underground space planning of the city and the construction of key areas were actively promoted as planned.

The modern construction industry continues to grow

While strengthening urban construction, Shenyang strives to develop the modern construction industry. In the first half of the year, Shenyang successfully held the 2015 China (Shenyang) International Modern Construction Industry Expo. The scope of industrialization technology for housing, municipal facilities, roads and bridges, and real estate projects continued to expand, with an assembly-type building area of ​​3.518 million square meters.

In addition, Shenyang strives to promote the steady development of the real estate market. From January to June, the city's commercial housing completion area was 1,931,400 square meters, down 68% year-on-year; the commercial housing contract record area was 6.99 million square meters, an increase of 11% year-on-year, and inventory pressure has decreased. The relevant departments have held symposiums on real estate development enterprises for many times to help real estate enterprises coordinate and solve various problems encountered in development.

This year, Shenyang increased the investment in community supporting funds and arranged 36 projects with a total planned investment of 80.95 million yuan.

Innovation and reform become the main tone

The relevant person in charge of the Municipal Construction Committee told the reporter that the underground integrated pipe gallery and sponge city are the national key promotion projects this year. At present, Shenyang's underground integrated pipe gallery construction has taken an important step in the first-mover trial. The construction of the sponge city is also stepping up and strives to enter the national pilot ranks next year.

This year, Shenyang also carried out smart city construction work, and began to work on smart pipe network, smart public, smart transportation, and smart buildings. Actively carry out the collection and construction of urban sculptures, and strive to improve the city's cultural taste.

"Not only in construction, but also in the use of new measures and new ways to promote industrial transformation and upgrading." It is understood that in terms of industrial policy, Shenyang Research has set up a special fund for the development of modern construction industry, focusing on supporting industrialization project construction and industrialization enterprises. Technology introduction and technology research and development. In terms of industrial integration, the modern home industry is integrated into the modern construction industry, and the entire chain industrial production system from equipment manufacturing to construction production to home decoration is explored.

Whether it is classic or contemporary, polyurethane decorative Carved Cornice Mouldings encompass a great selection of period correct designs, patterns and sizes for a wide variety of applications. Our decorative Carved Corner Mouldings are used to decorate a ceiling in many creative ways adding an architectural focal point to any room with style and beauty. Our Carved Cornice Mouldings are individually molded showing extreme care for its crisp lines which provides an elegant detail. They are light weight, strong and easy to install using standard woodworking tools. Our Carved Cornice Mouldings are factory primed and ready to be painted with any high quality paint.


Pu Decorative Mouldings,PU Cornices, Crown Molding,Carved Cornice Mouldings,Cornice Corner Mouldings, which are available in numerous designs to suit all tastes and styles and ensure a beautiful transition from wall to ceiling.

We have Carved Cornice Mouldings about 150 different designs, big size of Carved Cornice Mouldings are widely use to decoratie on the ceiling of big and high rooms, we develop new Carved Cornice Mouldings every year, our Carved Cornice Mouldings may be satified with all of your requirements.


Main characters of Cornice Mouldings :

1. Low cost: the surface painting is finished and installation time is very short, can be planed, sawed, nailed and glued by yourself, 80% cost saved than using wood and concrete.
2. Light weight: good resilience and tenacity, light and hard.
3. Entirely: classic, elegant and uniform.
4. Fire-proof: reach the standard of no combustion, uncombustion supporting and unburning.
5. Water-proof: no moisture absorbing, water permeation and mildew arising.
6. Anti-erosion: resist acid and alkali.
7. Environment protection: using polyester as raw material to avoid lumbering


Sites suitable: House, Restaurant, Hotel, Salon, Club, Shop etc.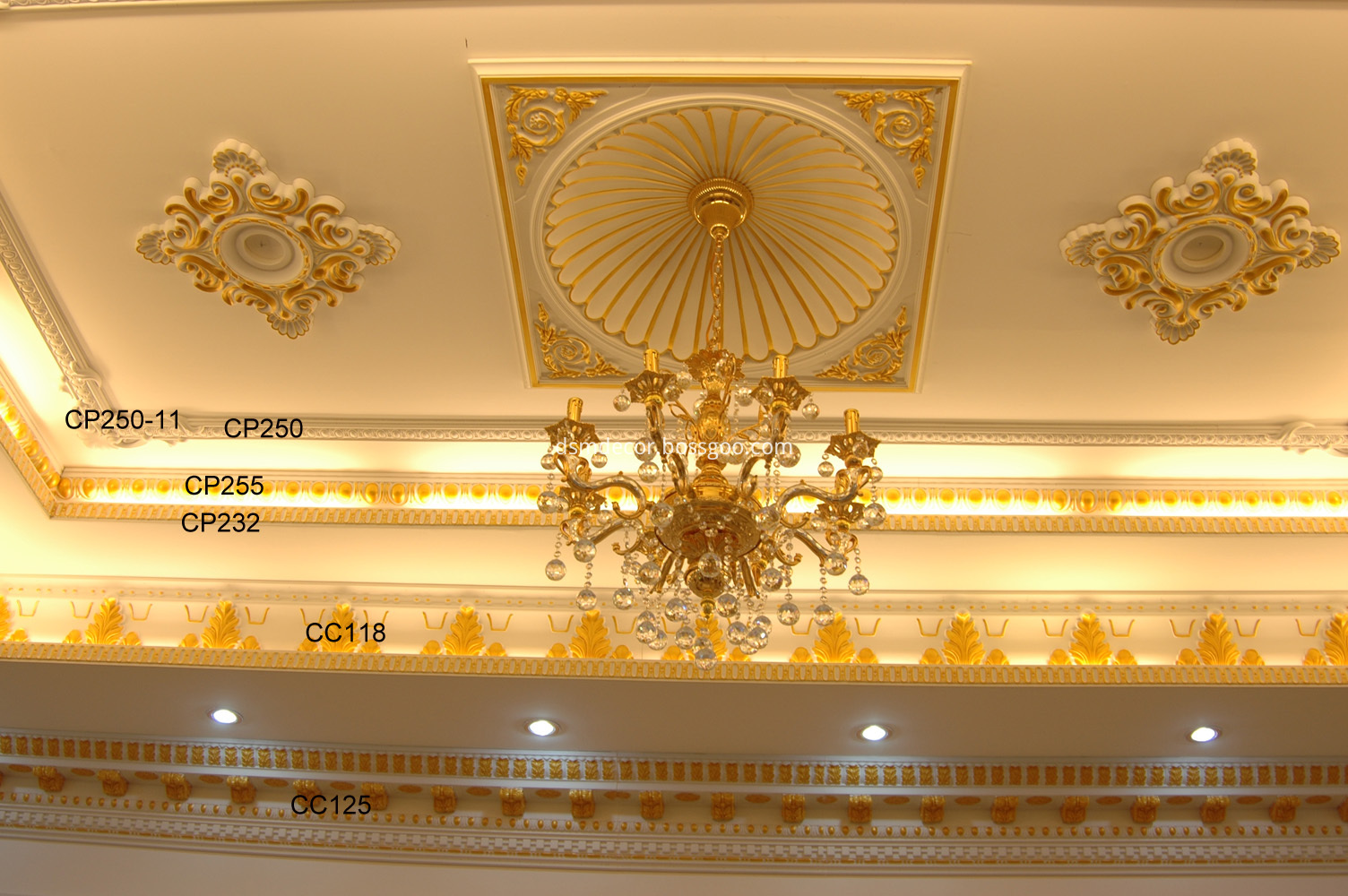 Carved Cornice Mouldings

Carved Cornice Mouldings,Cornice Mouldings,Crown Mouldings,Polyurethane Carved Cornice Mouldings,Pu Cornice,Foam Crown Mouldings,Decorative Cornice Mouldings

Suntronic New Materials Technology Co., Ltd. , https://www.dsmdecor.com