Talc is one of the minerals that is buried underground with serpentine containing asbestos and often contains asbestos in its natural form. We all know that talcum powder is generally made by talc grinding through a talc mill to a very fine degree. In addition to talc powder, there are many other uses for talcum powder. It can be used in cosmetics, medicine, food, and paint. , paper, plastic and other applications.


Talc mines are abundant in reserves around the world, usually a mixture of various crystal forms. In general, deep processing of talc ore must be passed through a mill to grind it into fine powders of various sizes and then applied to various fields. This property of the talc itself is taken into consideration when selecting processing equipment. The talc mill is mainly composed of a main machine, a reducer, an analysis machine, a pipeline device, a blower, a dust remover, a bucket elevator, an electromagnetic vibration feeder, and an electric control system .


The talc high-pressure suspension roller mill is suitable for mining, building materials, chemical industry, metallurgy and other industries. It can be used for talc, quartz stone, feldspar, barite, fluorite, dolomite, garnet, silicon carbide, bauxite, zirconium. Sand, marble, calcite, iron ore, phosphate rock, coal, ceramics, slag, etc. Mohs hardness is not more than 9.3, more than 400 kinds of non-flammable and explosive materials with humidity below 6% are milled. The finished product has a particle size of between 30 and 425 mesh.




The talc high-pressure suspension roller mill is more than twice as high as the flow mill, the agitator mill and the ball mill under the same condition of fineness of the finished product and motor power. The grinding roller and the grinding ring are forged by special materials, so that the utilization degree is greatly improved. Since there is no rolling bearing or screw in the grinding chamber, there is no problem that the bearing and its sealing member are vulnerable, and there is no problem that the screw is loose and the machine is destroyed. The dust collector is used to capture dust, and the muffler is used to reduce noise, which is environmentally friendly and clean. It is very convenient to operate and maintain. It can basically realize unmanned operation , save the customer's labor cost to the utmost extent, and closely follow the environmental protection problems of today's society. It is the best choice for high efficiency and high standard enterprises.





The grinding roller of the high-pressure suspension roller mill is tightly pressed on the grinding ring by the centrifugal force, so that when the grinding roller and the grinding ring wear to a certain thickness, the yield and fineness of the finished product are not affected. The replacement cycle of the grinding roller and the grinding ring of the high-pressure suspension roller mill is long, thereby eliminating the shortcomings of the replacement cycle of the wearing parts of the centrifugal pulverizer. The air-selected airflow of the high-pressure suspension roller mill is circulating in the fan--milling--cyclone-fan, so it has less dust than the high-speed centrifugal pulverizer , and the operation workshop is clean and the environment is free from pollution.








Benzyl Carbazate Basic Information
CAS: 5331-43-1
MF: C8H10N2O2
MW: 166.18
EINECS: 226-230-3
Product Categories: Phosgene Derivatives
Mol File: 5331-43-1.mol


benzyl carbazate Structure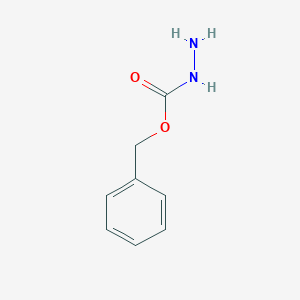 Benzyl carbazate Chemical Properties

Melting point 65-68 °C(lit.)

Boiling point 294.38°C (rough estimate)

density 1.2265 (rough estimate)

storage temp. 2-8°C

Water Solubility Soluble in water (slightly), methanol and DMSO.

Benzyl Carbazate CAS No. 5331-43-1

benzyl carbazate,benzyl carbamate msds,benzyl carbazate synthesis,benzyl carbamate solubility,benzyl carbazate wikipedia,Benzyl hydrazinecarboxylate

ShanDong YingLang Chemical Co.,LTD , https://www.sdylhgtrade.com